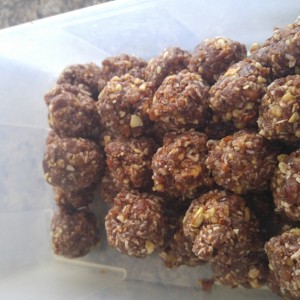 These yummy treats are no bake. Packed full of protein and healthy fats.
2 cups organic nuts
2 cups dried fruit (I love figs and apricots)
1 1/2 cup organic dried unsweetened coconut flakes
1/4 cup maple syrup or honey
1 teaspoon ground cinnamon
1/4 tsp ground allspice
1/2 tsp nutmeg
1/2 tsp orange zest
1/2 tsp lemon or lime zest
Put everything in a food processor and blend until mixed
roll into small balls and roll in coconut or cocoa
Store in an airtight container in the refrigerator for up to 2 weeks.