We all have heard of ADD and ADHD. I think we hear of it more with children than adults. But in most cases these children become adults with ADD and ADHD. 
Are you an adult that cannot focus on tasks at hand? Maybe you start jobs and can't finish them. Maybe even when you talk you can't collect your thoughts. Or maybe you just speak whatever is on your mind, and sometimes when you do you feel it wasn't what you wanted to say. 
Are you getting a concerned about your memory? I know I did in my early 40's. But as a Holistic Nutritionist I started with some simple steps first. Eating cleaner, exercising and taking good quality supplements. I couldn't believe the quick changes. 
There are no miracle cures. But being consistent is the key. Making some changes everyday makes the biggest differences. 
Most people want immediate results but will not continue on a path of lifestyle changes. They feel they can go back to normal after they make some changes. What is normal and what is it that makes us think what we were doing was normal. Is it what your family and friends have been doing? If we have been feeling fatigue, not sleeping well, or gaining weight suddenly, obviously these things are not normal. We will need to change things and continue on that path to continue to feel better. All of our bodies require key nutrients and if we don't get enough of these key nutrients, we will start to not feel our best. 
Our brain is an organ like any other organ in the body. So therefore if it doesn't get the right nutrients it cannot work as well as it should. We will start to have attention issues, memory issues, brain fog etc. 
We should incorporate important nutrition from foods such as whole foods, such as organic fruits and veggies. If you eat meat, it should be from animals that are raised healthy without antibiotics. Adding health fats such as Omega 3 from wild fish, walnuts, chia and flax seeds, pumpkin seed oil, coconut oil. These are very important for our brains. 
On top of eating healthy and avoiding chemicals, pesticides and herbicides. We need to add nutrients that may be deficient in our foods. 
What is exciting is some amazing science done on some great herbs. 
Bacopa Monnieri helps create BDNF (protein). Brain-derived neurotrophic factor (BDNF) encourages the formation of new brain cells and protects existing ones. 
American Ginseng (antioxidant). American ginseng contains chemicals called ginsenosides that seem to affect insulin levels in the body and lower blood sugar. Other chemicals, called polysaccharides, might affect the immune system. American ginseng is known for its proven ability to improve memory, counteract stress, boost mood, and protect against neurological diseases.
Coffee fruit extract is a natural nootropic (brain-boosting) supplement. Coffee fruit extract comes from the bright red fruit that wraps around coffee beans. It's packed with antioxidants and brain-enhancing compounds.
Coffee fruit extract boosts brain-derived neurotrophic factor (BDNF) by 143 percent. It builds new pathways in your brain, which helps you learn faster. BDNF also increases mental clarity and focus.
Coffee fruit extract also eases anxiety and is full of antioxidants that fight inflammation.
What if you could get all of this together? 
You can !!! 
I have been taking this for months and notice such an improvement in my focus, and memory.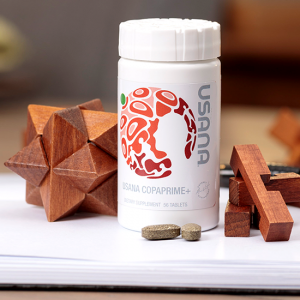 Order here
https://www.usana.com/s/Y5fij